USA
55. Jennifer Petrie: Be kind to yourself.
In this Masterclass we feature Jennifer Petrie, the head coach of the University of San Diego women's volleyball team. In 2022 coach Petrie was recognized as the AVCA National Coach of the Year, and San Diego set a national record with 28 consecutive wins.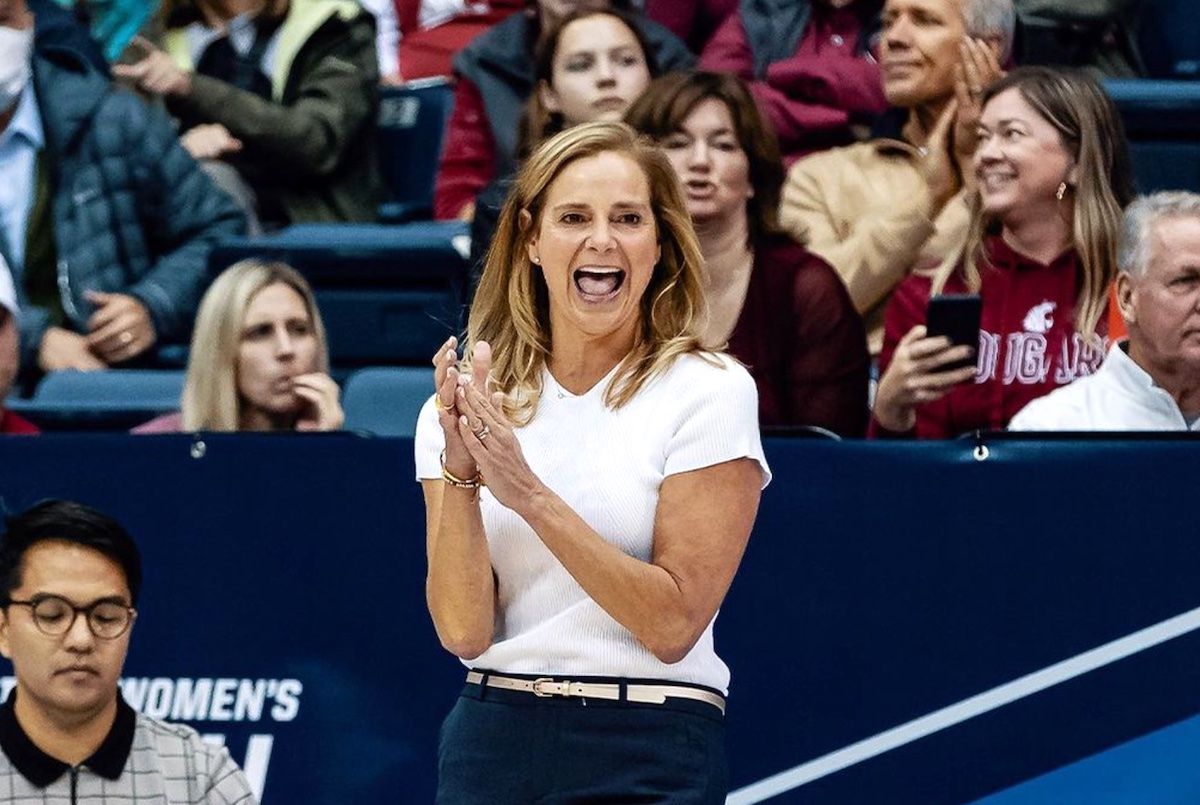 San Diego reached their first Final Four ever in 2022. The Toreros reached a 31-2 overall record, their lone two losses in 2022 came at the hands of the teams that played for the national championship — Texas and Louisville.
Jennifer goes over a lot in this Masterclass:
What her philosophy on building team culture is
How to handle team dynamics and conflicts within the team
What she recognized and improved upon after previous failures
Advice to coaches starting out
And so, so much more
There are 21 subtitled video clips in this Masterclass, enjoy!
If you have the chance for sure check all the clips, fun intersections don't translate that well to text, but they are all there in the clips. 🙂
Jennifer, when did you decide to commit to being a professional volleyball coach? What pushed you towards that decision?
After college I wanted to get a master's degree. I really didn't know what I was gonna do with my life. But volleyball had been such a large part of who I was.
So I took an assistant coaching job at Indiana State. I'm from San Diego and I went to school at William and Mary. So Indiana was a pretty large departure from anything I was used to. But they hired me site unseen, I didn't go out there to interview or anything. So I went there and I spent one season coaching there and decided that I was not good in the cold.
The next season I was very fortunate to be able to go to the University of North Carolina and work with Joe Sagula. I got my master's there in sports administration. I really knew that the athletic world was something that I wanted to stay in. I wasn't sure that it was gonna be coaching at that point, but in some capacity, I wanted to be around sport. (I'm a extremely competitive person.)
So after four years at North Carolina, I knew that I couldn't live a life that was just gonna be behind a desk doing the same things over and over again. I needed the highs and the lows of competing.
At that point I was really fortunate to be hired at the University of San Diego, which is my hometown.
It's just an unbelievable blessing to be able to coach and live in the same place that you want to live the rest of your life. Together with your family
So when was the exact moment? When I got this job at USD and got to do what I really love and in this sport. And be in the place where I wanted to raise a family and be with my family.
There was pretty much nothing else that I wanted to do after that.
What advice would you give yourself as a starting coach? An advice that is so clear and logic for you now, but that you had to develop over the years.
One of the things that I always come back to is that it's so important that you surround yourself with people that do things better than you do.
And that can be intimidating. My first hire here at USD, as a full-time assistant was Brent Hilliard. And he is a very decorated player. An Olympian and National Player of the year here at Long Beach State and he has just so much volleyball knowledge.
I knew that in my program, I needed somebody that had that kind of volleyball knowledge and that could come in and help train.
But it was definitely a scary proposition to think I'm bringing in somebody that knows more than I do, clearly.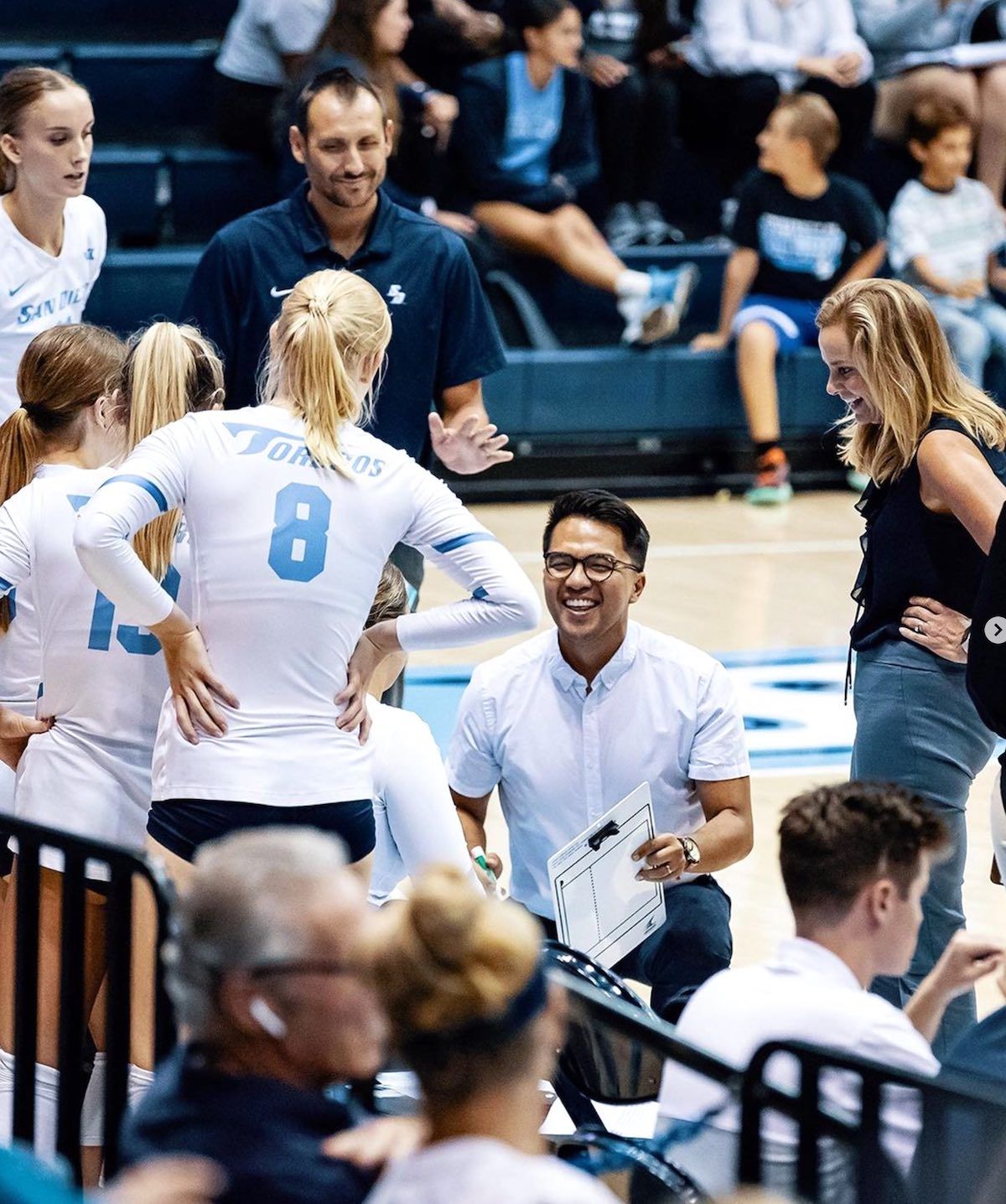 How can we manage and live together when, I'm the head coach and maybe this person is going to make me feel inferior. But as my career progressed, I just really leaned into that knowing that I'm gonna surround myself with people that do things better than I do.
We can collaborate and I can learn. It's so important that you don't stop learning.
What are bad recommendations you hear about coaching or training volleyball?
I mean, the big part of what I do here at San Diego is just really promoting balance. So when people are talking about quantity over quality. I think that that is a mistake. I like to give my players a lot of time off.
I'll often be in practice and say we shouldn't go on Monday, that we need to step away.
I know there's a lot of talk about having coaches in the gym in the summer. I don't think that's a great idea.
People wanna train more, because more is gonna be better? I don't think always more is better.
We're really fortunate because our season ends in December, but at USD we don't start school until almost the end of January.
So we have six weeks in between our fall and spring semester and I'm like, just go do something outside. Because when you come back, you're gonna be eager to be back in the gym and excited to practice again. So have some other experiences out there.
I think balance is so important. As coaches, we just feel like sometimes the more reps, the more time I spend in the gym, the more invested they are, the more film they watch, the more team meetings we can have, that means that I'm working hard and it's not always working smart.
Do you have a particular goal? Maybe a goal that you already reached or a goal that is so hard to reach that it gives you daily motivation?
Yeah. For me it's just sustained excellence. I mean, I'm shocked that I've been here for 25 years. I feel like that's impossible.
And every year I'm like, I gotta sustain this. Every year I wanna be able to match the level of success we've had in the past. We're only good as we are tomorrow. It doesn't matter what I did in the past. How long can I keep this up? So my goal every year is that, we gotta raise the bar.
We have to do something better. When I first took the job back in 97, I was the assistant for Sue Snyder, she was on the national team for a while and we won back to back conference championships under her.
I was very fortunate to get the head coaching job. I was very young. In my late twenties. I just thought, I hope I don't like tear down this empire right now because I could destroy all of our work within a matter of two years.
Then as the years kept going on, it drove me to continue to be successful. Even with the success behind you.
The challenge is; where are you going to progress? What's next?
In one of your post game interviews you talked about 'the culture work' that you do. About the vision, about pillars, about the foundation of the program. From a practical POV, new players coming in, integrating players; how do you go about structuring all that.
Well I can say that last year. We really, really invested ourselves in trying to establish some really strong culture.
And it started in January. I look at your volleyball  season as a year long process, right? And a lot of people think, oh, you start in August, that's when your season starts.  
No, this whole run starts in January. And we really spent a lot of time, we devoted at least one hour a week out of our eight hours of training just to talk about what our culture's gonna look like, what our pillars are gonna look like.
I could probably talk a lot just about the foundation of our program. How we're gonna establish trust, how we're gonna become resilient, how we're gonna be unified. We spent a lot of time in developing our pillars and then talking about, well you can talk all day long about, we wanna stay brave, we wanna protect the team.
But you have to actually put those into action, right? You have to actually be accountable for what we're saying.
So we would get in small groups, we talk about what it looks like, what it doesn't look like. And then how we're gonna resolve when we get off track. One of the biggest areas is, we can all say what we want, but what happens when it's not?
And how are we gonna move forward? So we spent time talking about conflict resolution, how we're going to address people when things go south. And you need to have a serious conversation with somebody about, you know, you're not on board with us right now, but we really need you. So you have to listen to them with the intent that they care about you, right?
We work a lot on conflict resolution. How we're gonna manage each other. We learned how to talk in a circle. The team knows that if there's an issue on the table, they can go to our council. The council has been voted on by their teammates. It's usually three players. Doesn't matter, if they're starters or how old they are.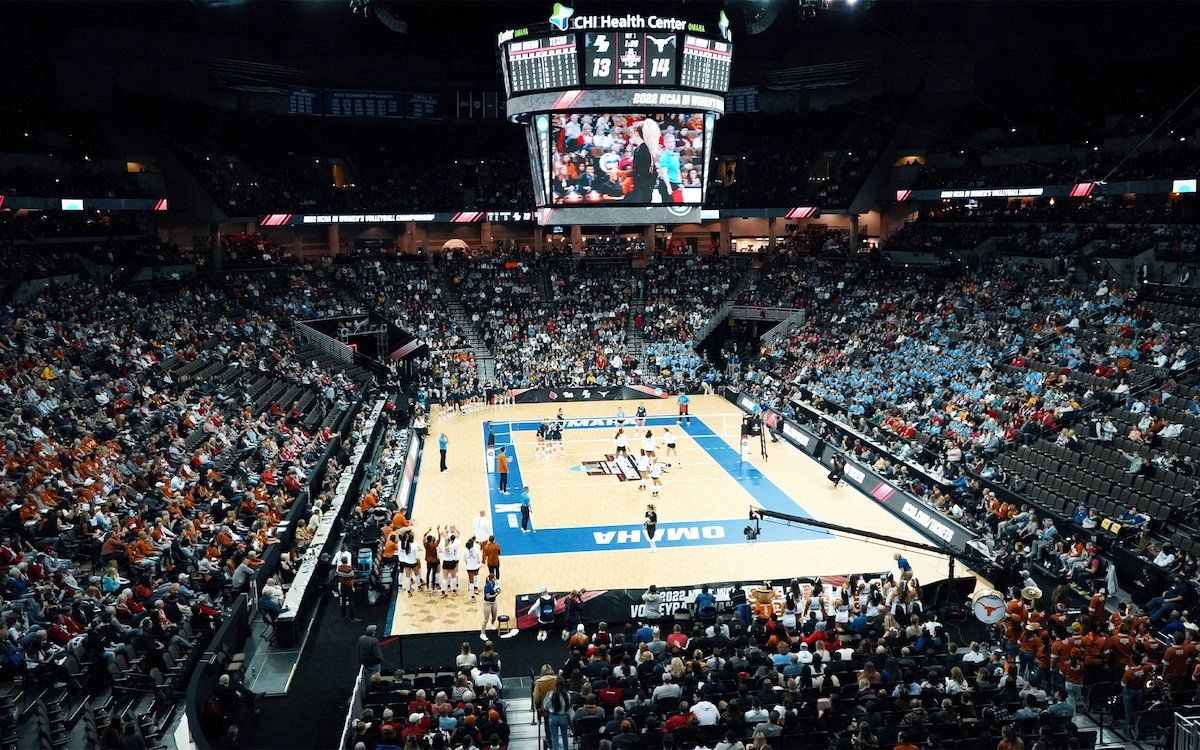 We want some different opinions and outlooks, perspectives for the council. The council's in charge of making sure that everybody's okay and that the pillars are being upheld. Players can go to the council, talk to them if they have an issue. The council could decide, okay, we're gonna meet in a circle.
Once they meet in a circle, the topic comes up and then they pass it around and everybody speaks. Coaches are not typically in that circle. But if there's something that the council or a player feels like it needs to be addressed on a higher level, then of course my door is always open. Each player knows that they can come in and can come talk to me at any time.
But there's a lot of things that happen in teams that don't have to be addressed by coaches.
They have to be accountable and have some autonomy over what's happening with your program and you have to trust them.
That's the one thing about the transfer portal, that's been a little bit hard because we're replacing people from the top now instead of allowing them to develop in your program.