ITALY
24. Marcello Abbondanza:"Even after being successful, what we do will change. And it will change again."
Marcello Abbondanza is an Italian coach with a boatload of experience coaching high level club teams in Italy, Azerbaijan, Poland, Turkey, both the Canadian and the Bulgarian national teams. Being known as one of the most successful coaches in female volleyball of the last decade.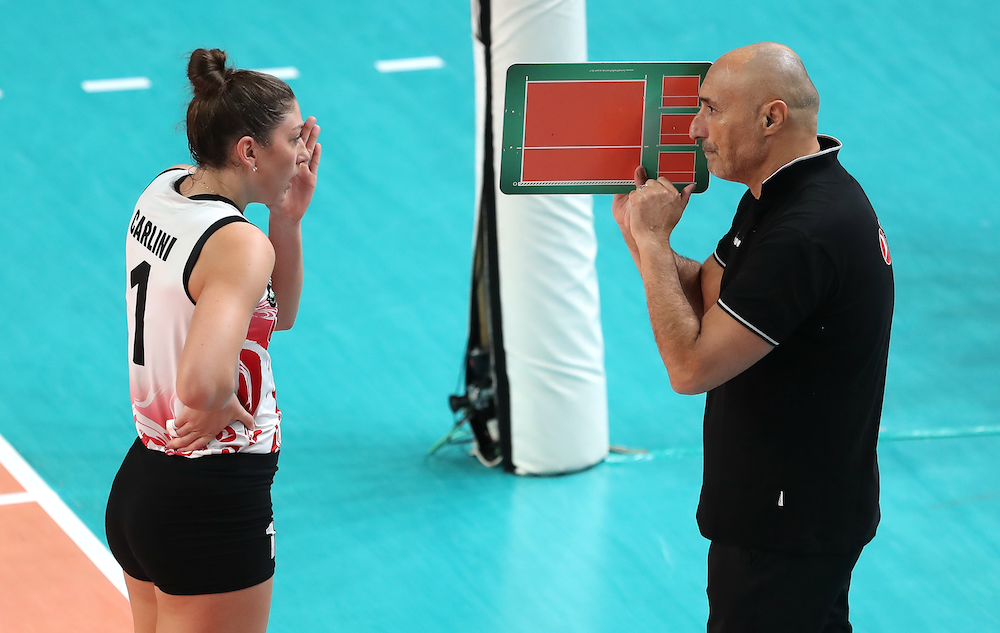 Every year, between 2009 til 2018 Marcello reached the respective national championship finals with the teams that we has coaching. All this while coaching in 4 different countries, Italy, Azerbaijan, Turkey and Poland.
Currently Marcello is the head coach of THY Spor Kulübü in Turkey, THY just started their first European Champions League tournament and should be able to get a solid result.
Most of our European readers will know THY as the Turkish Airlines team, our US based and other readers will probably better know some of the players on Marcello' team, like Lauren Carlini, Madi (Kingdon) Rishel and Tetori Dixon.
In this Masterclass Marcello goes deeper into how he thinks about team composition, the lessons he learned along his coaching journey, how an apparent failure actually defined his entire coaching and family life and so much more.
This article is nearly 4000 words long and features 9 video clips with English subtitles. Enjoy.
Enter Marcello.
Marcelo, why did you decide to commit to being a professional volleyball coach? What pushed you towards that decision?
Well that's a rather funny story. I came 'late' into volleyball, I didn't even know about it til I was 23 years old.
I was born in an Italian town called Cesenatico, which is located by the sea and I loved playing beach volleyball. I wanted to become better so at 23 years old I tried to join a local indoor volleyball team to craft my skill.
But of course, nobody would take a 23 years old guy without any previous indoor experience on his team.
At that time I was studying at the university in my 4th year of 'agraria' (environmental studies) and I found a lower level team that would let me train and play.
But being the person that I am, I decided to follow the 'national volleyball coaches course', I'm not the person that would believe anything that this coach would tell me, I wanted to know if all of it was true. 😀
A bit later I decided to leave my 'agrarian studies' and enter the 'Instituto dello Sport' and become a coach.
So my story really is that I wanted to become a good player and wanted to train in the best way possible.
Having these questions, this healthy curiosity, about my coaches' methodology I became a coach myself.
What advice would you give yourself as a starting coach? An advice that is so clear and logic for you now, but that you had to develop over the years.

That sometimes it's NOT important to know everything about volleyball. I probably had to be a little better at communicating to people.
Volleybrains: People? Players, your team, coaches?
Management, coaches, staff, with all of them. I should have been a little more open to dialogue in general, I only held on to my own opinions, my own beliefs.
Probably at that time, thinking back now, I was lucky to be able to get ahigh level coaching job at a relatively young age.
I started when I was 23 years old, but at 26 I was already the assistant coach at Ravenna, at 28 I won the first Italian championship as an assistant coach, at 31 I was already a head coach in the Serie A1.
So let's say I managed to grow very quickly through the minor league's.
Not being very communicative was also a form of protection, because I was so young, I had players of my own age on my team so that is probably why I did that.
But over the years I've realized that 'the dialogue' would help me in a lot of situations.
Another thing is that I thought the best medicine as a coach was to win and to train well.
But actually in the female world, I don't know about the male volleyball world, but in the female world it's not like that.
Sometimes it doesn't matter how great you are as a coach, but how well you sell yourself. That is something that stays a disillusion to me.
I believe that 'meritocracy' should be more recognized both at the level of the players, at the coaching level and at the executive level.
Instead I think there are still some dynamics whereby sometimes 'merit' takes the back seat. And that's a pity.