ITALY
21. Andrea Gardini:'For every player you'll need a different key, your job is to find that key.'
If you are a fan of the small gold medal emoji's 🥇, you should go and take a look at Andrea Gardini's wikipedia page. There are too many World Championship, Olympic, World League and other titles to even start to count. Today we talk to the former athlete who became a successful coach.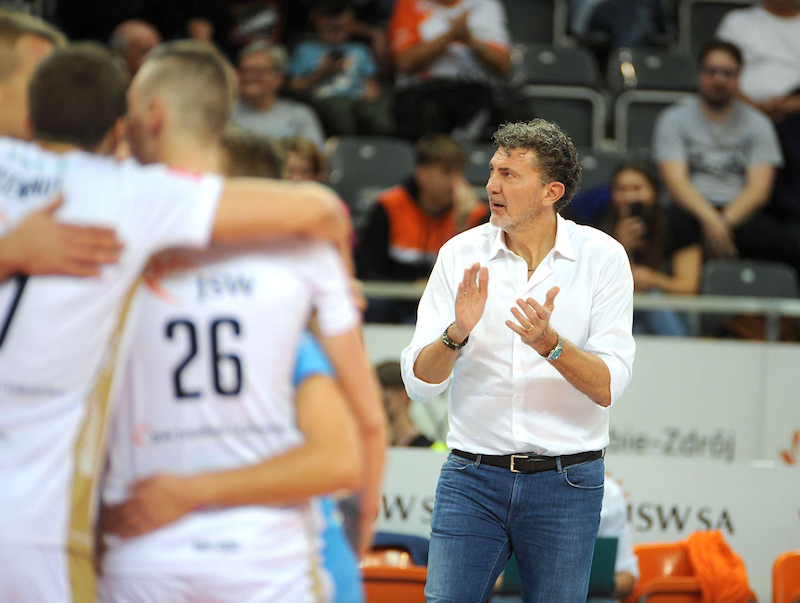 Don't get used to these Volleyball Hall Of Fame interviews now.:-)
Andrea got inducted into the Volleyball Hall Of Fame in 2007 and this excerpt was part of Andrea's induction biography:
'Gardini, a two-time Olympic medal winner and key component of the FIVB-crowned "Best Volleyball Team of the 20th Century," was a tough, effective and popular middle blocker for the "Squadra Azzurri." Few teams in the world of sport have been as dominant as the Italian Men's Volleyball Team of the 1990s.

Gardini and the Italian team were the first-ever to win three consecutive World Championship titles (1990, 1994 and 1998). The Italian team won the Silver Medal at the 1996 Olympics in Atlanta and the Bronze at the 2000 Summer Games in. During the 1996 Olympics at Atlanta, Italy and the Netherlands played what some call the "Greatest Volleyball Match Ever" for the gold medal.'
'Gardo' went on to become a successful volleyball coach and at the moment he coaches the current Polish champion of Jastrebski Wegiel.
(oh and a small caveat, we want you to check out the various videoclips in this masterclass, there are some curse words though, this is European volleyball, everything goes to make your message heard.;-))
Enter Andrea...
Andrea, when did you decide that you wanted to become a volleyball coach?
During the 2006-2007 season I was the general manager of Sparkling Milano, a club team in the Italian Superlega.
I had some serious health issues going on so I stopped working for them to take a break and fix my health. I was out for a couple of months.
In that summer Andrea Anastasi won the European Championships with the Spanish national team. Me and Andrea, well 'Nano', that is his nickname, we go back a long time of course, we are like brothers...he called me immediately after winning and told me: I will be the head coach of the Italian national team and I want you to become my assistant coach.
I told him: 'Nano, I really never thought about this, I don't know if this is such a great idea?' He told me: 'I know you, it's going to be perfect for you.'
So I started to work as Andrea's assistant. We worked together in the national team til 2012, until the Olympic games in Beijing. After that we worked for 3 more years together in Poland, if I remember correctly.
We really did spend an amazing time together, he really teached me a lot.
How to get the best out of the players, how to handle a group of players, how to handle the ever changing composition of your team, because year after year our teams do change a lot.
Us working together was automatic. Towards the end of our time working together we didn't even have to discuss a lot, we just looked at each other and knew what the other one was thinking.
After that I thought, why not, I love this job, let's do this.
I spend a few years in Olsztyn(Poland), in Zaksa Kedzierzyn Kozle, where we won the league and the cup, I went back to Italy after that and now I'm in Jastrebski again in Poland.
I love to coach, love to work with my team and even more with the individual...I don't want to fight or convince them to do something, I want to show them what they are capable of.
Every day there is a new challenge. I love this.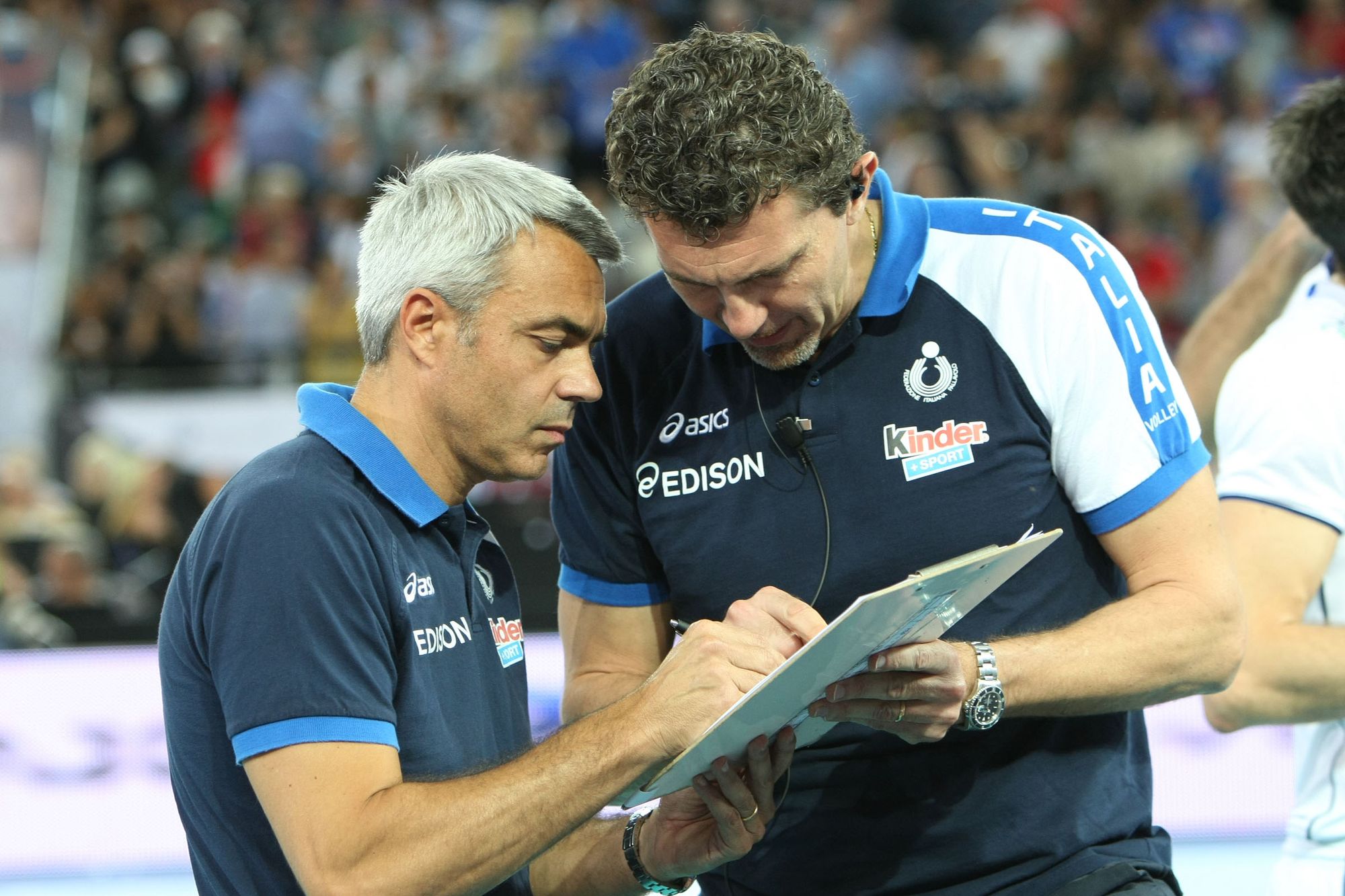 You took over the team of Jastrebski at the end of last season, coming into a team that has been playing for more than half a season is a strange situation, how did that go?
They were a great group of people and I was lucky that I 'found' the key to unlock them.
We solved a lot of problems, they worked very hard and in the end we won the Polish League, while winning against Zaksa(the current Champions League winner).
This last season really has been my best experience since I started to coach. A coach has many ideas or concepts, but not a lot of times it happens that they all seem to connect, that is however what happened last season.
Til the semi finals we were struggling, but after that the pieces of the puzzle fell together.
Even while Zaksa was leading a couple of points in some sets, we were executing what we had discussed, we were doing the things we discussed...even being down those couple of points, I didn't need to take a time-out to help them tactically or technically, I just used them to take the momentum out of the game a bit.
For the rest we were like a machine.
Some parts of that final series, I could just stand there and admire our own play, that doesn't happen a lot to a volleyball coach.:-)
I'm really forever grateful to these guys, we really did something special.
What advice would you give yourself as a starting coach? An advice that is so clear and logic for you now, but that you had to develop over the years.
When I started out as an assistant coach, I had a lot of ideas about how to build a team, how to manage certain situations, how to work day in and day out. Most of them based on how we had worked in the national team in the late 80's and 90's.
But I had to throw nearly all of those concepts away, I was a teenager 40 years ago, the way people think now is totally different.
So I will have to say to myself, look at what is going on around you, open your mind and adapt.
It's impossible to tell somebody to just do something in a certain way, because you are the coach and that's the reason why they have to do it.
There is needed more than that, more input, in the end it also keeps you sharp as a coach, you need to be ready for these questions that you players have.
Probably not the best to generalise, but can we say the current players are smarter(or at least, less naive) than before...maybe more self centered even. Which maybe is not that beneficial in a team sport.
I spoke about this with my players, there is a problem about this. Sometimes the great, the best players are great players because they are a bit egotistical.
You know what I mean?
They score all the important points, they feel that they have all the responsibility.
So to convince a player like that, to stay in a fixed system, to help the team to win...and maybe also creating a more beneficial situation for their own career.
Well, that's not so easy because they became good players, because they had this big focus on their own play, their own growth.
'I'm the best. Give me the ball. I will kill every ball.'
So in their mind it is a complicated balance because they know that stuff happens because they are like that.
So they think: 'why do I have to change for this team? With these weak players around me.'
Because maybe these weak players can help you win something, something more.
And this is the key.
You have a lot of experience in this over the years of course. My own feeling is this; only 0.01 something % of pro players reach the absolute top of our game, most of these have this... 'healthy' focus on themselves.
Being able to get there and realising that there is something to give back, that is where you can really start to make a legacy for your team and yourself of course.
In the early 90's at Messaggero Ravenna I played together with Karch Kiraly. And Karch is, in my opinion, the greatest player in the history of our sport.
But if you remember him, he wasn't an amazing spiker, he wasn't that tall.