SPAIN
37. Cesar Hernandez Gonzalez:"Focus on winning 3 sets. You don't need to focus on winning the match."
In today's Masterclass we feature Cesar Hernandez Gonzalez. Cesar is the newly appointed head coach of the Korean women's national team, in charge of building their new look team. Cesar is also an assistant coach and data specialist over at Turkish powerhouse Vakifbank.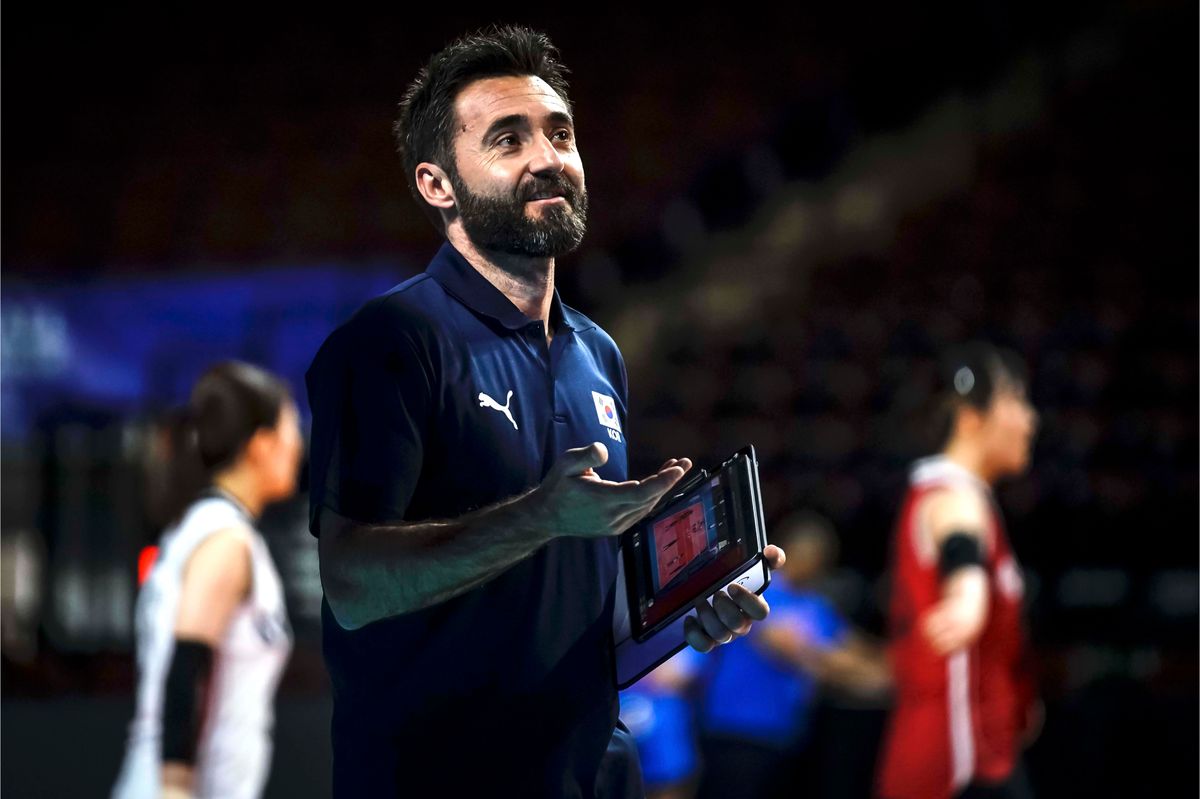 This Masterclass will partly be an interview, but the most extensive part of this Masterclass will be about how Cesar approaches data analysis. Cesar can be called one of the biggest experts on data analysis in worldwide volleyball. (Yes, a real volleybrain!🙃)
There is a lot to learn here today.
Maybe not all the 'data handling' practices are that easily transferable to your own team, but the specific insights do translate very, very well.
Some of the 'data' topics...
What are the key data points that make pro teams win?
How does Vakifbank score opposing teams' setter rotations according to their own. How do they gain an advantage here?
How do they evaluate player performances (a libero can be an MVP)
How do they go about recruiting for their specific or desired line up?
and so much more, there are 50 minutes of 'data talk' in this Masterclass
This season Vakifbank managed to go 5 for 5. 🥇🥇🥇🥇🥇
Winning the Turkish Supercup, the Turkish Cup, the World Championship for Clubs, the Turkish League and the European Champions League.
Our call was recorded 2 days after winning the Turkish League (with a lot of inside info about how they needed to play to get that job done) and before winning the Champions League against Daniele Santarelli's Imoco Conegliano.
Enjoy.
Enter Cesar.
Cesar, when did you decide to become a volleyball coach? What pushed you towards that decision?
I started in volleyball because of a teacher of mine in university.
I was not a volleyball player. There was no volleyball in my city.  I was playing football, basket. I did many sports. I was always involved in sports.
When I arrived to the university we had volleyball lessons, because I studied sports sciences it was part of my curriculum.
I remembered the first day that we had to train and I thought... volleyball? I don't know anything about this. Not even the rules, nothing.
But my teacher had been a player in the Spanish national team. He was the head coach of the national team. He had been the captain of the national team in the 70's. And he was a great teacher. So I discovered volleyball that year.
And to me it immediately became clear that this sport was amazing.
Technically you have to be super precise. Tactically, there are many options. So in my third year, I have to choose between 11 sports to further specialize. I had to choose 3 sports out of those 11 and in the 4th and 5th year, I had to specialize in one sport.
And for me, after that second year, it was pretty clear that it should be volleyball.
When I entered into the university, I had planned to become a teacher, because I liked to teach a lot.
So I thought, okay, would want to work in a high school as a teacher, even if I liked sports, but I never considered the professional coach route ever.
For me high-performance sports was something that was far away from where I was at.
I never thought that I would arrive here.
Do you have a particular goal? Maybe a goal that you already reached or a goal that is so hard to reach that it gives you daily motivation?(and some healthy stress :-))
When I finished my university, this was in 2000, I said, I don't know how, I don't know with whom, but I want to go to the Olympics.
I want to sit on the bench during the Olympics. I didn't know how to do that.  I don't know anything or anybody. But I want to reach that goal.
In that moment, nobody knew me because I was not a player. So I was a complete outsider in the volleyball scene. Nobody knows of me, nobody, not even in my city, in Madrid.
There were many volleyball clubs in Madrid. I went there and asked them, 'Can I come to see the practice?' Yeah. But who are you? I'm in the university. So nobody knows me. 😁
But my dream was, I want to be in Olympics, I want to be in an Olympics.
And I can tell you when Tokyo arrived in 2021, even with all the difficulty and them wanting to maybe postpone the games. I was thinking maybe they will cancel the Olympic games for the first time that I qualify.(Cesar was the assistant coach of the Korean team in 2019-2021)
And this is also something that I like a lot in sports, because sometimes you say, okay, you made your dream come through...and now?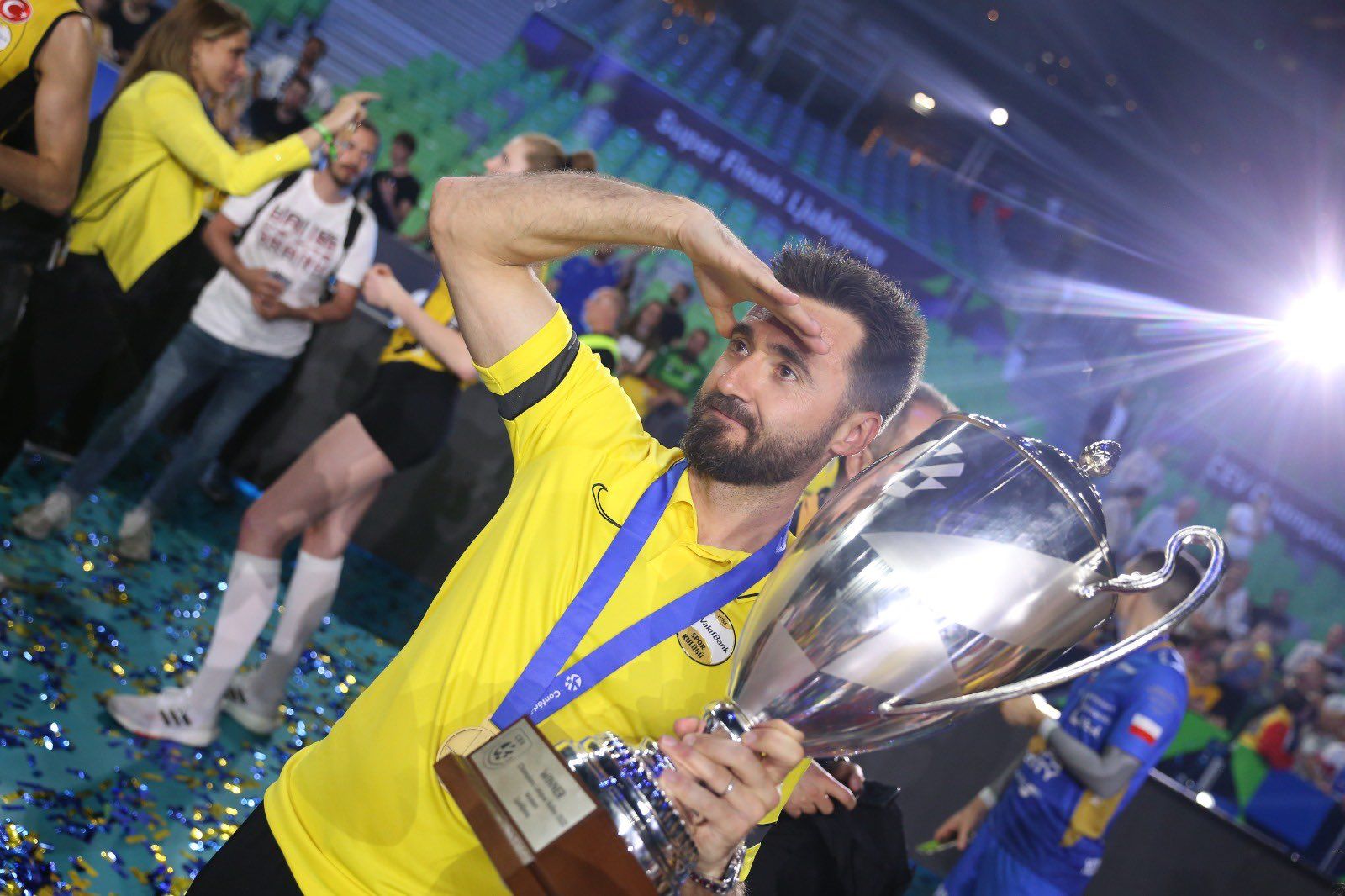 And now I wanna win the champions league. Now I will start  with South Korea in the head coaching position. Et cetera, ...
So when you finish one dream, there immediately will arise another one. That's what motivates me...
I want to work out my 'probability concepts', I want to check more data sets, I want to put more data together. I want to collect more team data, I want to perform well with Korea, I want to develop the national team in Korea.
There are many things in front of us.
Keep going, keep going and the experiences that are coming because all of this, for me these are the most valuable things that I possess.
What recent or game from the volleyball vaults did validate once more that volleyball is the greatest sport on the globe for you? For sure share your opinions about this matchup, what you took away from it.
The match of the other day against Fenerbahce. The matches in the Olympic games with Korea. Even without any spectators being there.
How we went to the semifinals of the Olympics with Korea. If you would have told me beforehand, you will go to Tokyo and you will play the semifinal against Serbia. I would have said, 'Impossible, impossible.' But we did it.
The match in the World Championship of clubs of this season where we finally won against Conegliano after we had lost in the World Championship of clubs in 2019 and we had lost against them in the final of the European Champions League in 2020.
So we were like, 'We need to beat them.' Just for one time, we need to do it.
We had arrived in the 5th set against them before, so we were there again head to head in the 5th, but in the end we won. So we now now that we can win against them. It will be super difficult. But the probability is 50-50 now.
My experiences, all the people that I know, all the places that I went. All these experiences. If I had to repay for all the traveling that I did because of volleyball, I cannot repay that amount, that's impossible.
I'm really grateful for volleyball. I travel around the world. I know people everywhere, I'm in contact with many people that I've never even seen, we are talking by WhatsApp, Messenger, Instagram, we are talking, but we've never met each other.
These are people who share with me what they are doing in their clubs, with their statistics...  
So all these things for me are the most valuable.
Superfinals Conegliano - Vakifbank 2022 Top 5 plays
Can you tell us more about your job at Vakifbank?
I try to find the connection between the numbers which come from the analysis. From what happens during our practice, how we have to adapt. What will happen in the games. We try to predict as much as possible.
Afterwards I always say that the data is like when you open up a small bag of sugar and you pour it over a table. Now, if you do this with 100 different bags of sugar, the pyramidal shape of the sugar will always form itself.
You'll always get the same picture. Because this is the normal distribution, so it will be always the same.  
So if I analyze a hundred 'pours', I would say, oh, all one hundred of them must have been the same.
But if I check only one piece of sugar in each hundred pours, it will always be in a different position.
So when I analyze the 55 matches that we have played with Vakifbank this season, that will give me an idea "about Vakifbank".
If I check a 'single match' of us afterwards, that single match will every time be in a different 'position'.
Because it's not that we always play the same. One day we will be better in passing, one day we will better in attack, one day we will be struggling a little more in defense, one day in block we are doing a better job with the middles than with our position 4's.
So each piece, each point and each match is in a different position.
My job is the know where we are compared to where we want to be, to figure out what is missing to arrive where we want to be and to figure out what our opponents game looks like and how we with our style of playing have to approach our opponents to come out on top.
So when I was checking Fenerbahce, for example, for the last match of this final series. I told Giovanni(Giovanni Guidetti Vakifbank's head coach), because I tried to convert the data into 'what will happen'...
So I told Giovanni, for me, the thing that Fenerbahce can do is serve like crazy, even if they know that they will make way more mistakes, because that is the only way that they have to break our side out and they will try to attack more with the middles.
Because our idea was to not follow their middles too much, because they were not playing too much with them and they were not performing that great. Because the 'feeling' with the setter is not great with their middles.
So I told Giovanni, they can serve like crazy, they can push more with the serve. And the only way out that they have in attacking is to play more with their middles, because if they keep playing with Fedorovtseva and Vargas (outside and opposite), we will control them. Sooner or later we will have control over them.
Does that mean that we have  to change our idea to not follow their middles? No, because even if they start attacking more with their middles, then we can touch and we can defend them.
So we have to keep doing the same, because if they want to win they will need our mistakes. If we don't create mistakes, they won't have a possibility to come out on top.
The numbers are telling me that they don't have any other option. It's clear that each time when we make a mistake ourselves, they are making their side out at a 100 procent. They don't have to pass. They don't have to set. They don't have to attack.
And they are struggling in passing. In setting they don't have a good feeling with the middles.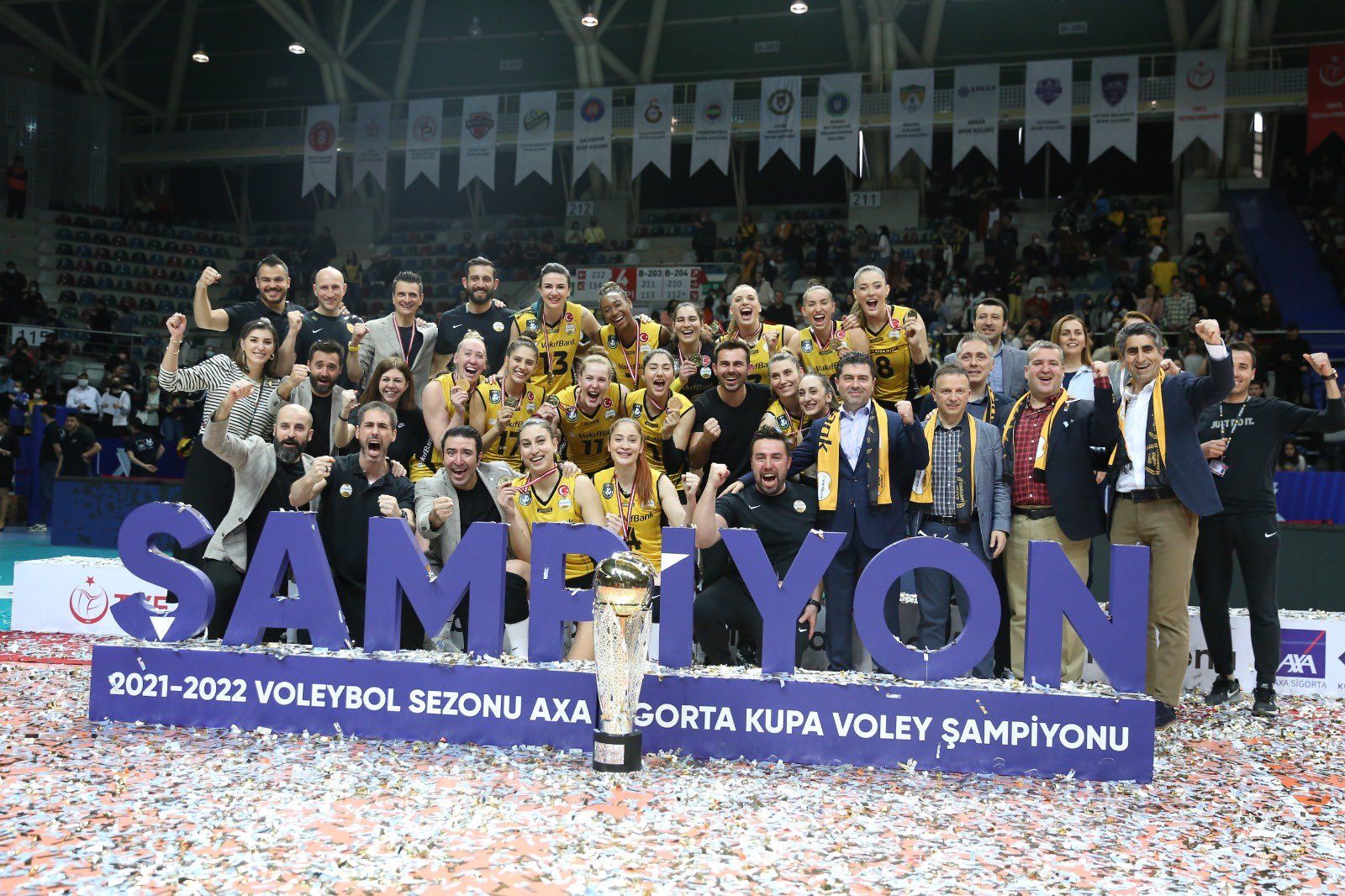 So at the end, they are playing with Vargas and Fedorovtseva and we are more or less controlling them.
Of course they will make their points. Of course these sets will arrive at 25 - 22. Of course there will be one moment where emotions can change the match.
Of course...because it's not that we are playing a video game.
But if we play according to our standard. That means Gabi attacking, I don't know, at 50% and receiving at 65%, Bartsch is struggling a little more in attack, but she gives us more options in defense, working with the middle blockers, working with Bella.
If we play according to our standard and we put our level of service mistakes one step lower, instead of making 20 mistakes, we make 15...
We will win or our probability to win will be higher.
We don't need to do anything 'else'. Of course, Vakifbank is one of the best teams in the world. So we have Gabi. Of course, if Gabi has a bad day, because she didn't sleep well or any other reason...yes, we maybe won't play according to our standard.
But a player can come off the bench and put our level back towards our standard of play. So we have to do a substitution. No problem.
So I tell all these findings to Giovanni before the match, in the morning. It's like this. After we have to play and we have to check in realtime if this adds up.
So we have to be focused. Because our standard is to win the Turkish league. That's not an easy feat. It's not easy for Gabi to attack at 50% with Vargas and a middle in front of her blocking. It's not easy, but it's Gabi. Of course if I have to play soccer like Cristiano Ronaldo, I can't. Why can Cristiano Ronaldo play like that? Because he's Cristiano Ronaldo, he's the best player in the world.
For Gabi it's the same. She can do it because she is Gabi.
If I ask the same performance from Tugba, maybe Tugba can not play at Gabi her level. Because if Tugba can play the same as Gabi, Tugba will be in our starting six.
So when we put another player inside the system, we need to balance that maybe with putting in another player or maybe we need to change our way of playing to keep our standard.
Sometimes there are players which are performing over our standard. That's what happened in the 3rd match of the finals series when Tugba entered in the match and she performad at 70% in spiking .
That brings us back to the story of the sugar.
If she would have played every game, would she have performed at 70%? No, but she did a great job. We work all the time for that to happen. We work every day, every single day for that. It was one piece of sugar and Tugba was performing at 70%.
But if I check the performance of Tugba during the entire season, we'll arrive at 45%. Because the picture of Tugba in Vakifbank during the season is not just one piece of sugar, it's all the pieces that come together and that will show us the normal distribution.
For me the key is that you put the data inside the court. To tell our head coach what we have to practice.
Now for example we play against Conegliano which is totally different...totally different. We have to face the match in another way. Because Conegliano has very different characteristics.
They play quicker. They play more with their middles. They are better in passing, which makes them more balanced in side out. So we have to try to put them in trouble, it's up to us to do that and to approach that game in different way than we did with Fenerbahce.
Data analysis chapter 🔥
VolleyBrains: You've arrived at the part where we'll turn the volleybrains dial up to 11.
We've got 5 video clips ready for you and it will take you close to one hour to get through all of this. Put the clips on full screen mode otherwise you'll miss out on some annotations and visualisations. (fancy words for random squares 🙃)
So sit back and take the time to soak all this up. Let's go!
Game flow
Questions answered: How do we picture our game flow and what can we learn from it? Do you have to score points to become an MVP? Why does Vakifbank control so many variables?
The game flow chart mentioned in the video clip.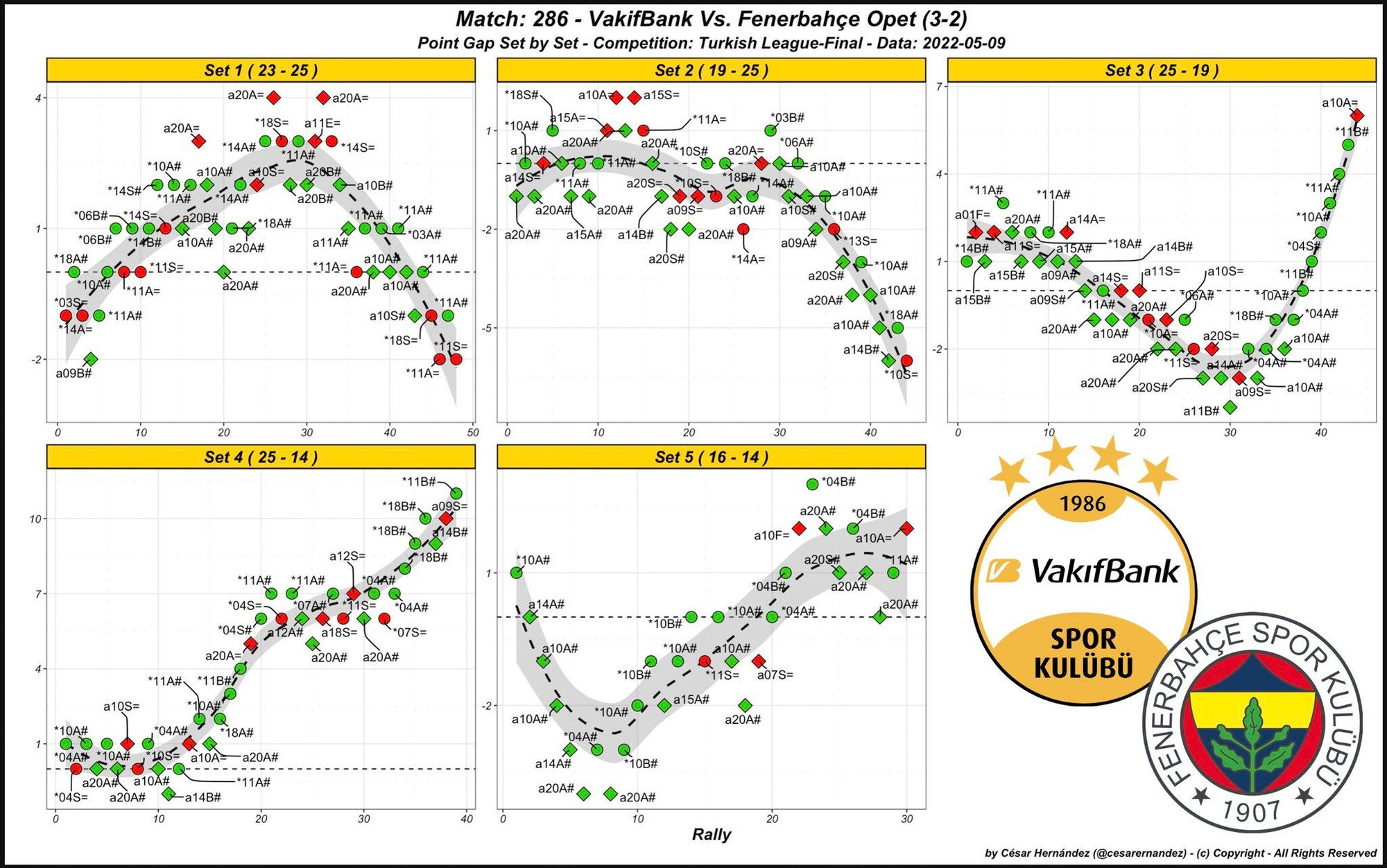 The game flow chart of the Champions League final against Conegliano.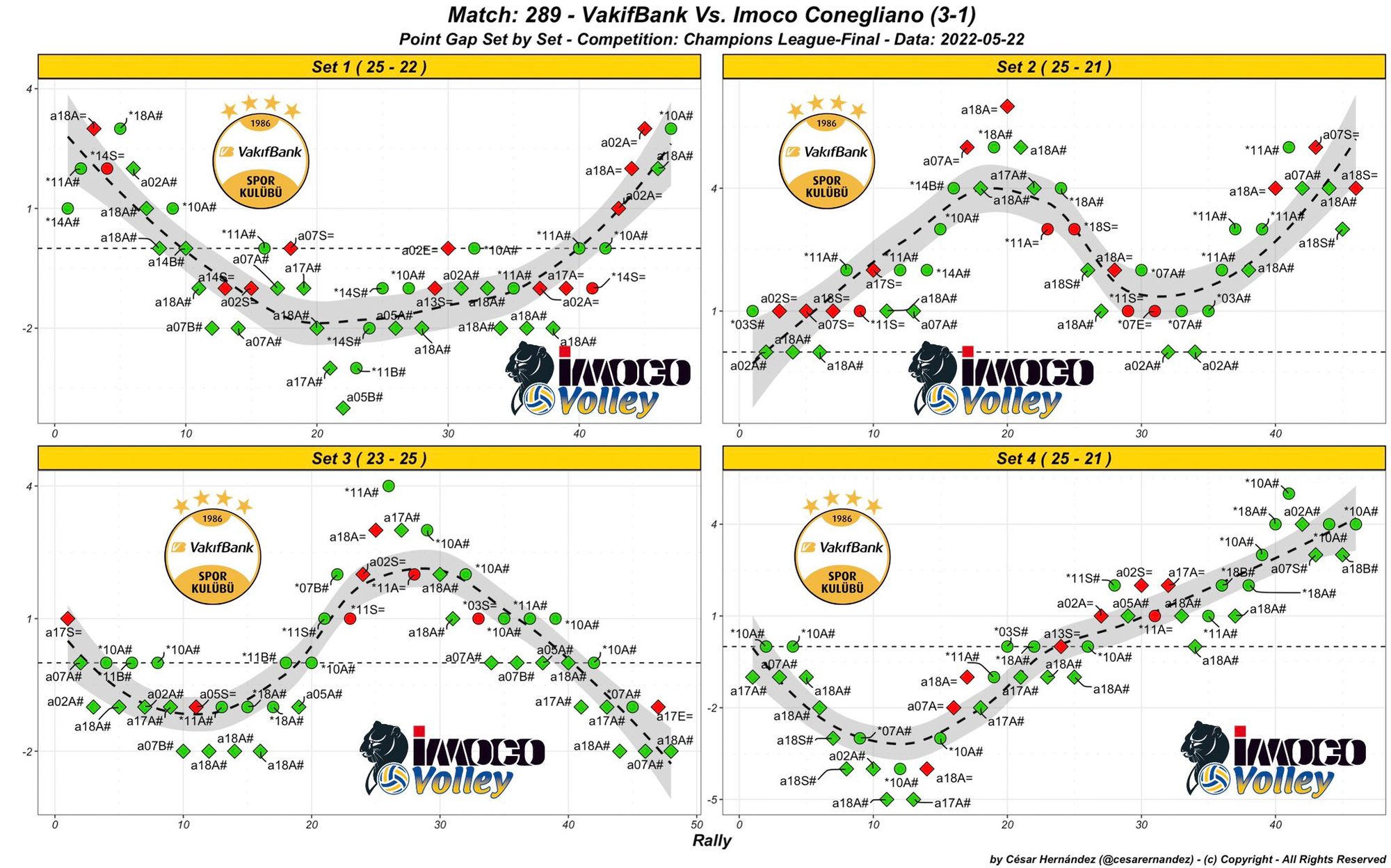 The quality of the first contact
Questions answered: Is there a correlation between the first touch and our attack performance? How did we gain an edge over Fenerbahce using this analysis?