USA
64. John Dunning: Only do things that show respect.
In this Masterclass we feature John Dunning. John is one of only two Division I college volleyball coaches to have won NCAA championships at two different schools. And has guided his teams to 5 NCAA championships.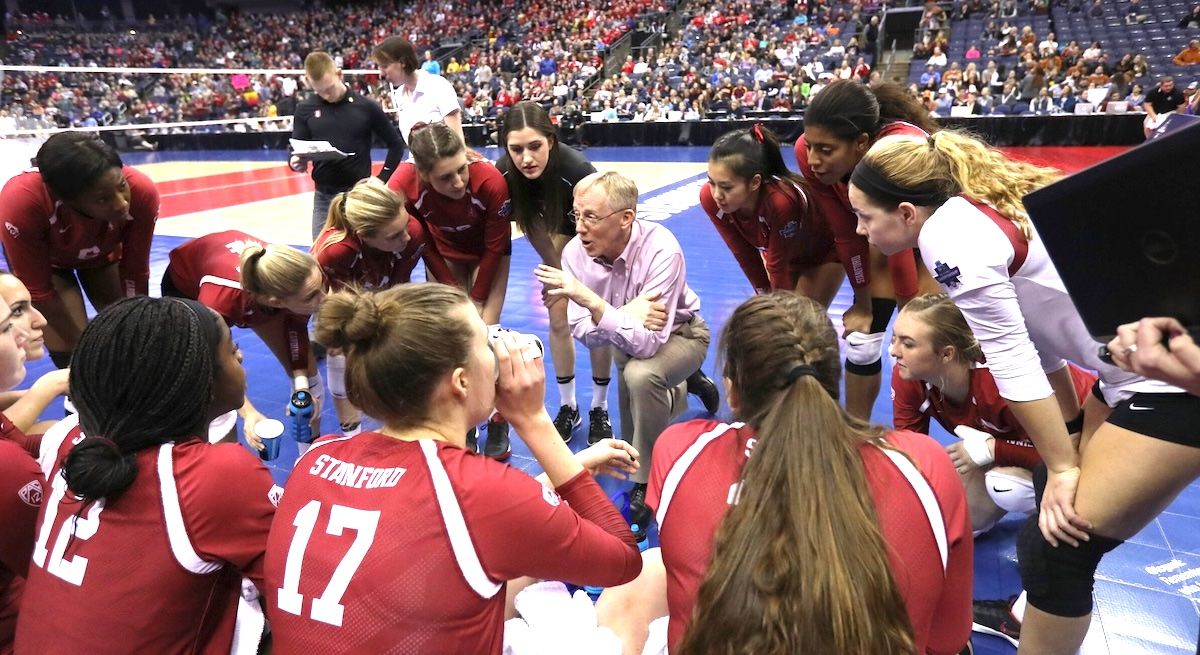 Coach Dunning came to the sport of volleyball as a high school coach. Later on he spent 32 years in collegiate coaching. First at the University of the Pacific and from 2001 til 2016 at Stanford University.
Coach Dunning continues to support our game through the Art of Coaching Volleyball together with Terry Liskevych and Russ Rose.
In this Masterclass John talks about:
The one coaching skill that overshadows all others (listening)
Why teaching any skill must be based on science/ biomechanics
What his goal is and how it could help anybody's journey
What the most fundamental team rules should be and why
The 2 things any successful team needs to possess
and so much more, ...
Our call went over 2 hours long and resulted into a 14.000 word article, so we chopped things up and will feature part 2 next Sunday.
In part 2 we dive even more into the technical side and the future of our sport.
Before we get this started a big thanks to coach Dunning for his availability.
Enter John.
John, Why did you decide to commit to being a professional volleyball coach? What pushed you towards that decision?
I grew up playing basketball and golf in high school here in the States. I tried to go to college to play, went to junior college and played both. But probably wasn't good enough to play beyond that. I had never seen volleyball ever. Either seen it or played it or been in the gym with it. Never.
But I never thought about being a coach either. I became a high school math teacher. I love mathematics, just fits my brain for some reason. I don't know why. And I became a high school basketball coach. I loved it. But I got tired of it, because it was all year round.
And a miracle happened in the United States.
They started something called Title IX. It was a dictate from our government that said we have to treat female athletes respectfully. And here's some rules to follow. So they started women's sports at my high school and some of the kids already were playing volleyball. They came to me and said:  "Would you coach the team?"
What I didn't know is they'd already asked three other people on our staff. And they all said no. So I was their fourth choice.
So I said, yes, and I loved it from the first day. I love coaching women. I love the sport of volleyball. I'm a very logical, very disciplined person. So I got into it really quick, even though it was impossible to find information to help me.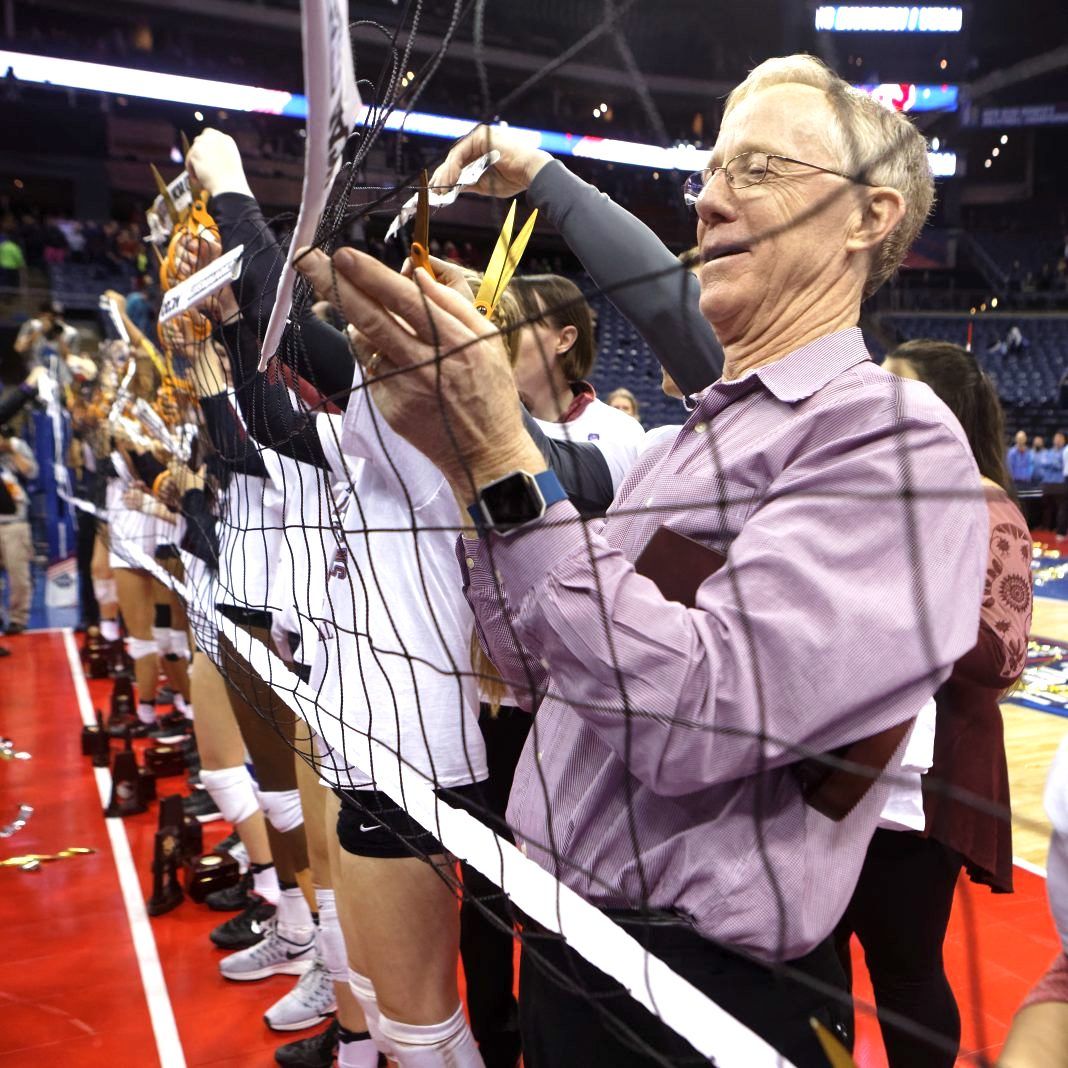 I found one book, Al Scates from UCLA, his book. They hadn't invented video yet, so I didn't have that. I had to teach myself. And I had a friend who played in the service and he helped teach me.
I was 10 years in as a high school teacher and I had two children by then, when I got to know Terry Liskevych, who coached at the University of the Pacific here in California.
He liked me for some reason. And he asked me to start coaching at clinics with him. He did clinics around the country. When he left to become the USA coach in 1984, end of 84- 85, he helped me get the job at University of Pacific. Even on the day that I got the job, I didn't know if I wanted the job.
But my wife said, who is an amazing person, her name's Julie.
She said: "Your job is teaching. Your hobby is coaching and volleyball. And you are so busy running camps and coaching a club and coaching high school and teaching that you don't have time for your family. So make your hobby, your job. Or quit your hobby."
And she's a very strong person. So that's the reason I became a professional volleyball coach, a college coach. I kind of had to. And I did not know what I was getting into.
I mean, I know Terry, so I followed the game as best you could back then. I had players who were recruited to play in college, but I didn't really know what I was getting into.
Then I did it for 32 years. And I enjoyed most of it. Recruiting is challenging for anyone. The ups and downs of coaching and the constant pressure. The small town focus on our sport, where I'd walk into a store and people would want to talk volleyball with me. I wasn't geared for that to start with.
I don't like attention. But I got it. There's tough stuff about it.
But most of all, I love coaching generally. I love the thought of it, how to work at it and improve. So that's my path in a quick little bit.
What advice would you give yourself as a starting coach? An advice that is so clear and logic for you now, but that you had to develop over the years.
I think we all get caught up in competition. In wanting to be really good. Really living the idea of coaching for life, rather than victory. Is really, really a key.
It's so easy to get caught up in coaching for the victory. I know I was like that for a long time. At times anyway.
I like people. I liked being a teacher. I was probably a better math teacher than a coach. And all the time I wasn't committed to this. And I would say those were my worst moments.
My best moments were when I was fully committed to the idea of coach for life, not for victory.
Yeah, I do have another piece of advice. I'm a mathematician. So I'm a problem solver. That's what you do in math. You solve problems. And for a long time, I thought that was my mission in life.
And when you're dealing with people, especially young people. At first 14 to 17 years old. And for 32 years, 17 to 22. They have things that happen in their life.
They don't play in games. They get hurt. They're not happy with me because I'm trying to push them. Whatever it might be. But I was always trying to solve the problem.
So an athlete might walk into my office and look like they needed something. As soon as they sat down and said anything, my brain was calculating how I could help them and solve their problem. It took me a long time to become a listener. My wife is actually a really good listener. My view of coaches generally, maybe people generally, is there aren't very many good listeners.
There are lots of people who can solve their own problem. If they can just tell someone what the problem is. So just to sit and listen.
Maybe ask a question to encourage them to say more. I think is a really, really good skill. To be a great coach. I think it's a necessary skill. If you are not a listener, I think you put serious limits on yourself.
And so for me, I care. I think I wanted to listen all along. But there was this 'problem solving' itch in me. That as soon as I started to figure out what I wanted to say to them. I stopped listening to them. And that was a mistake.
And the longer I coached, the better I got at it. And the more it helped.
So listen, don't assume you know what's going on. Listen and let people tell you things. And encourage them to keep talking, you're going to find out so many ways to help their life be better.
Matias: The funny thing was. You were listening so intentful at the start of our call here today. That I was like. Do I have to continue talking about why I'm doing this?
I was unsure if you were just really listening very good. Or you were just like:" Okay man, you can stop talking now. I know why I'm here." So that's the negative side of listening.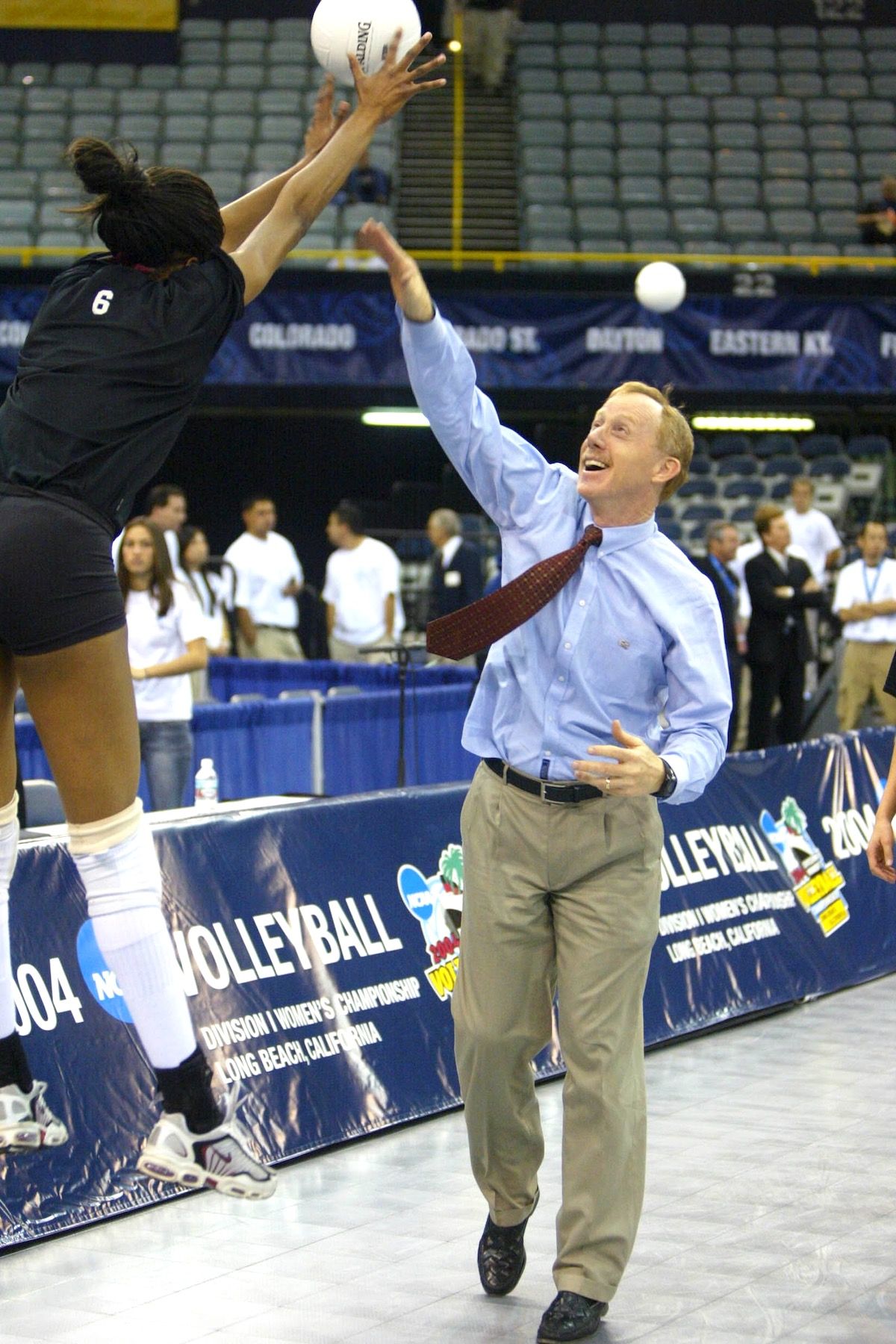 Yeah, it is and it can make people uncomfortable. I just grew to the point where I could outwait them. I would just sit and look at them until they continued.
I still do it now, because I still coach a little bit. My granddaughter plays club volleyball here. She's 16 years old and she plays high school. So I help coach her club team.
First time I've ever been an assistant. It's a totally different job, than the head coach. I'm appreciating that right now. I don't want to be a head coach anymore.
What are bad recommendations you hear about coaching or training volleyball?
I think the thing that I would bring up, that I don't think is good about our world is: we are going to look to other people to help us learn.
Since when I began coaching there were lots of people where I said yes to, I will do that. Who didn't have the right reasons for why they were teaching, and what they were teaching.
I think there's a lot of ego involved in saying, this is my way, I'm going to tell you, I think you should copy me. I don't have good reason for it, it's just what I think.
I remember going to a national clinic here in the States one time.  This very highly recognized coach was talking about blocking, saying this is the footwork we're going to do.
Say you're going to your right to block. What you're going to do is land on your right leg. And as you're landing from blocking, do an air step and begin to turn as you land so that you can transition quicker.