AUSTRALIA
13. Lauren Bertolacci:"You can't beat teams better than you by playing it safe, you need to score points."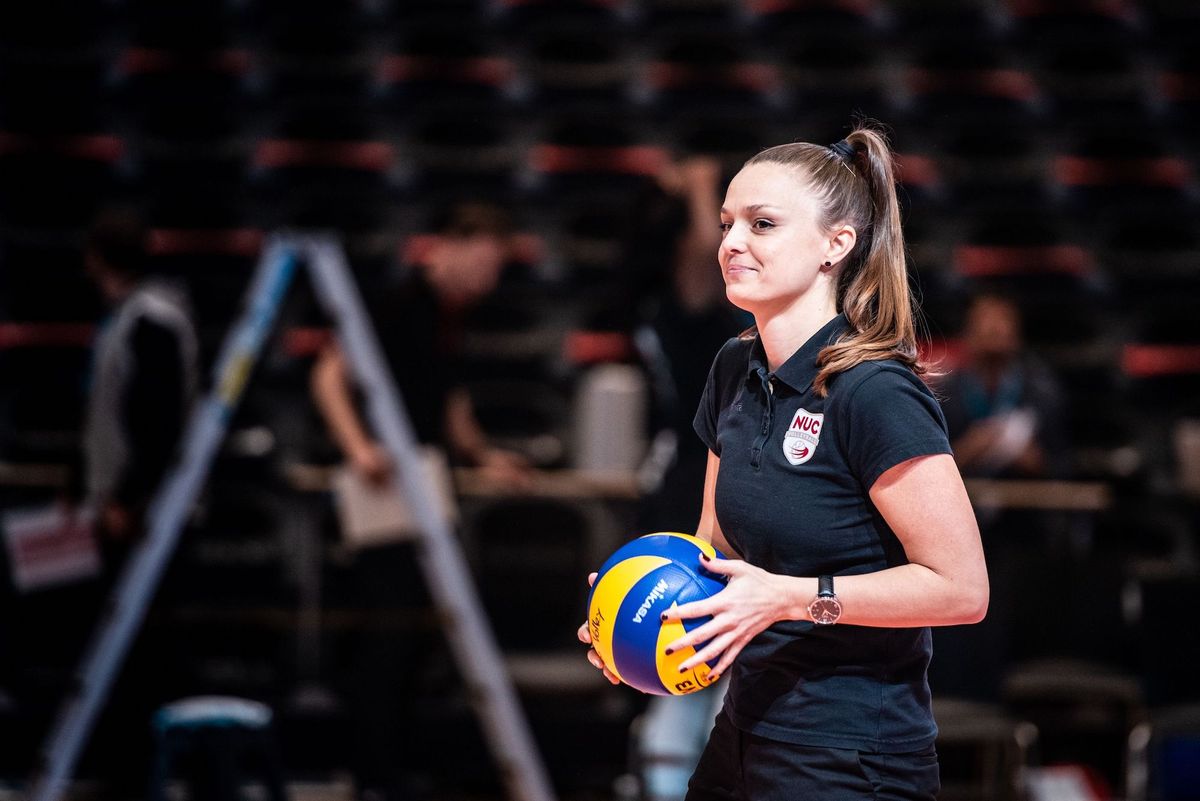 In today's article we're featuring Lauren Bertolacci. Lauren is the head coach of Swiss powerhouse NUC Volleyball (Neuchatel), the current Swiss champion and she's an assistant coach with Team Canada currently competing in the VNL.
Lauren is a former pro player, has coached both female and male pro teams and gained international experience with the Australian national team.
With her answers Lauren touches on some very clear but often overlooked concepts of coaching the game of volleyball.
Find them out for yourself in the article below.
---
Lauren, why and how many years ago did you decide to commit to being a professional volleyball coach? What pushed you towards that decision?
I was a fairly mediocre professional volleyball player who often disagreed with the ideas and styles of my coaches. I wasn't outwardly critical but if something didn't seem logical to me I would spend quite a bit of mental energy and time thinking about it. When I look back now, without really knowing it I was formulating a lot of ideas and opinions throughout my playing career.
As with many things, luck and timing had a big influence on the start of my coaching career. You just need to be ready to take advantage of breaks that you get.
When I arrived at my last club in 2013, I was approached to take a men's Head Coach position in a team that just moved up into the second division. It took me a while to say yes as I thought it would be difficult to focus on my playing career as well as coach a team, I had only coached in the junior ranks and I hadn't taken much notice of men's volleyball.
Thankfully it was the best move I ever made, coaching is far more enjoyable to me than playing, and it felt more natural. We immediately moved to the top of the second division and after two seasons in the second division we were promoted to League A.
A chance for a female to Head Coach a men's team in the top division in any league doesn't come around often, so it was a no brainer for me to retire from playing.
As a player I constantly felt angry, stressed and frustrated.
As a coach I am quite calm, curious and constantly learning. Some things are just meant to be.
What advice would you give to a starting coach? An advice that is so clear and logic for you now, but that you had to develop for yourself?
Never waiver from who you are and what your vision is as a coach. Work backwards from the big picture and constantly improve and innovate on how to get there.
I developed a strong philosophy regarding the style of play I wanted and who I am as a coach. This has been refined as I grew and the process to get there continues to improve, but the big principles stay the same.
You can't beat teams better than you by playing it safe, you need to score points.
I worked backwards from there and realised my goal must be to equip the players with an excellent toolbox in all aspects of the game, an ability to understand when to use what, and make sure they are in the right mindset to take risks. We want to play a really aggressive, creative and risky style of game.
It's easy to feel embarrassed when you go for it and you fail spectacularly, but if you don't do that you truly can't take the next step. Don't underestimate your actions, words and body language on a players mental state. If you want them to play an aggressive game, they must feel free to do it. Players can have all the tools available to them, but their mental state needs to be good enough to execute it.
We play within a set of rules that are defined by the sport itself, but human nature dictates that we play with restrictions put on us as well.
Those may be things the coach is telling us, the traditions of the game or what we learned growing up through the sport.
I want to encourage players to think different, and as coaches we don't want to limit our players. Many barriers we face are real, but some are just expectations.
We want to teach the players how to take risks and how to get better at executing those plays.
The second big thing is creating relationships. I jumped into Head Coaching without a lot of experience in the field, so people around me were very quickly my biggest resource.
Those that you work with are immensely valuable and to succeed you must be able to get the most out of every individual, player or staff. Be vulnerable, it builds trust and enhances communication.
The moment you believe you know everything, is the moment you close yourself off from people that can help you become a better coach.

Have a big picture, work backwards to get there, and continue to improve your processes.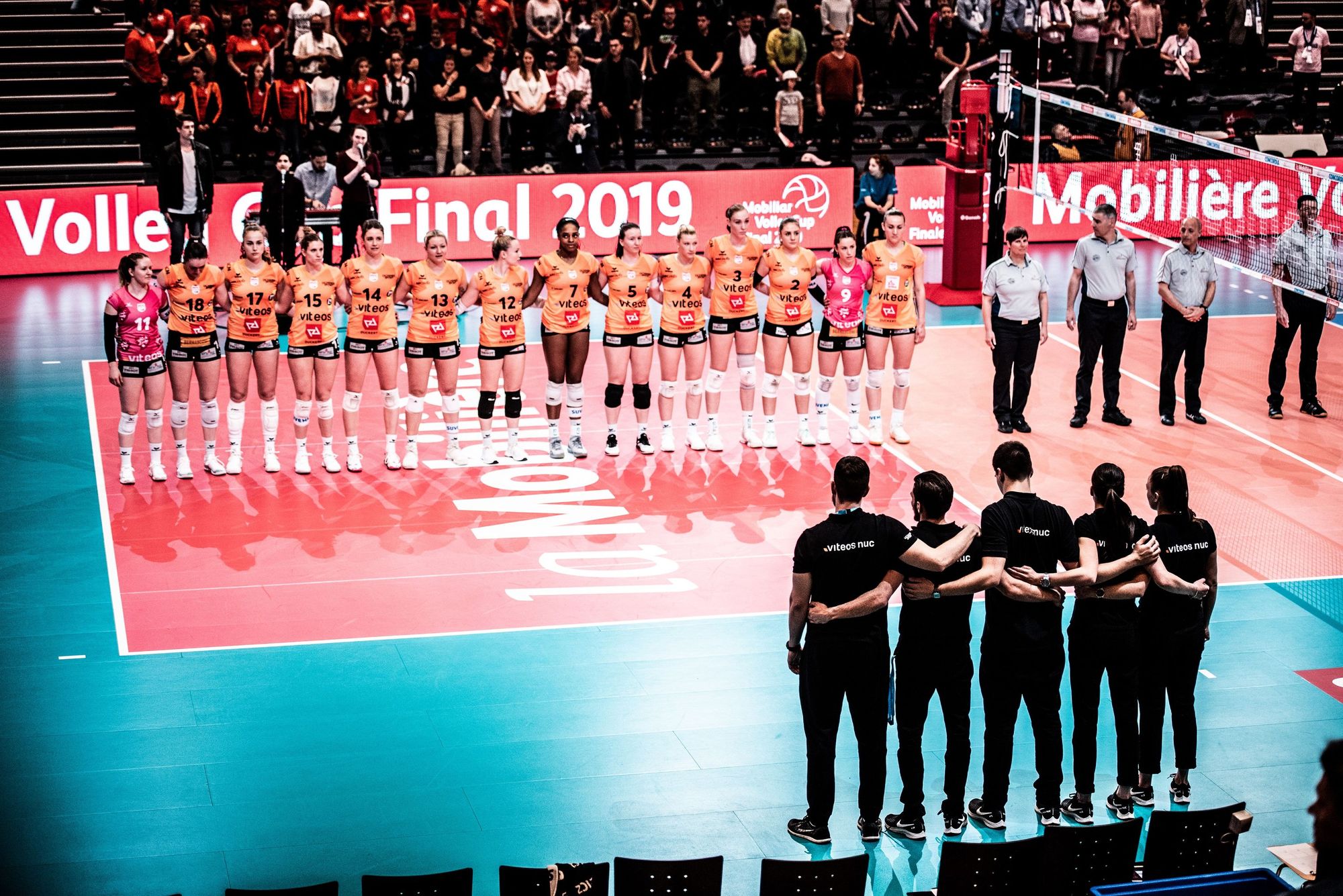 Do you have a particular goal as a coach? Maybe a goal that you already reached or a goal that is so hard to reach that it gives you daily motivation? Can be a personal or a team or club goal?
I aim to be as transparent as possible. I want to be honest and direct.
I would like people to join a program I am in, grow their game and their mentality, take value from the environment provided and eventually move onto bigger and better things.
If I am not  honest and direct, I can't provide that.
In the traditional sense of a goal, for the moment I get to do great work at NUC.
We compete for championships but at the same time we do a lot of work developing young local players, and it's very satisfying work.
Ultimately my girlfriend is from the USA and we would like to move back there eventually, so my future will hopefully be coaching some good volleyball in the NCAA.
The future of volleyball, how will the game evolve according to your opinion? Or what are you hoping for that the game will look like in a couple of decades?
The men's game overall is more innovative and creative. I believe women's volleyball is often over coached, and the game lags behind the mens because of it.
After coaching in both domains and playing for a long time on the women's side, I believe that coaches in the women's game are unknowingly putting restrictions on their players, and it's holding the whole game back. I won't delve too far into the reasons why but I believe it's a combination of perceived characteristics of women and simple traditions of the game.
Watch a men's game at a good level in the last 5 years and you will see direct balls, wipes, power tips, hybrid serves and a bunch of different and creative ways to play.
This has been there for a while. It's beginning to creep into the women's side and the game is developing as it becomes more mainstream, but it takes time.
Structure is important. If you don't have simple systems then it's difficult to perform as a unit, but those systems cannot be restrictive, our coaching shouldn't limit the players and we must encourage creative solutions!
In the future I hope to see (and drive) this progression on the women's side.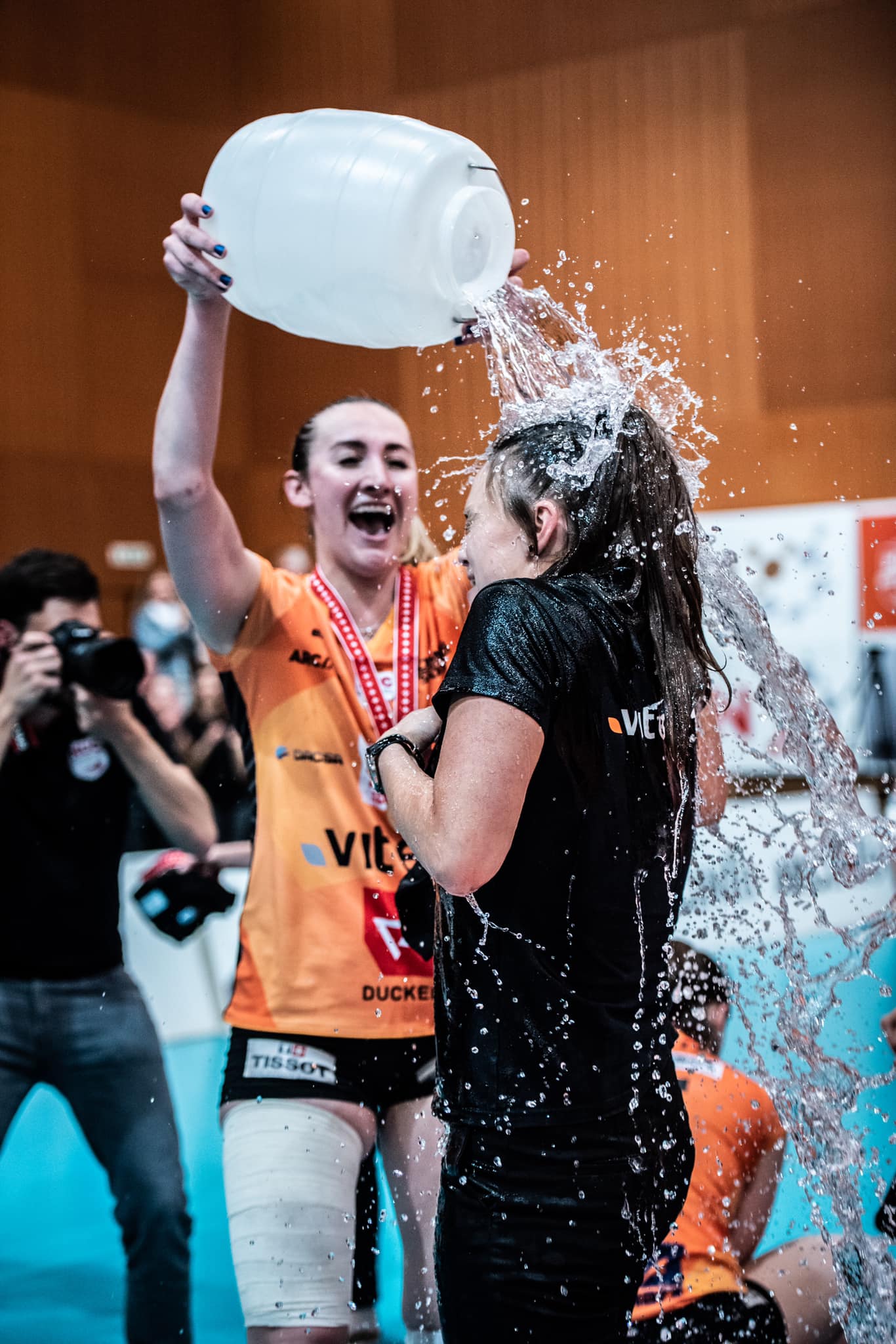 According to you, what rule change is necessary in the future? And why would you want to see this new rule implemented?
I don't get overly involved in these discussions, I tend to focus on how we can push the boundaries and work within the rules that already exist.
Similar to my answer to the last question, men and women are typically coached differently, I think they are judged differently as well.
At least in the mid level leagues, ball handling errors on the set are quicker to be called in women's, throws and carries on random plays or attacks are called more frequently.
I think the game should be judged the same. I'm not here to debate the rules just to make sure they are enforced the same over both genders.
Otherwise it halts the creativity and innovation of one half of the volleyball population.
Why not ask a silly question also, we had so many serious ones. :-) So, you are Dr. Frankenstein and have the ability to put together the world's most performing volleyball player. Which at least 5 characteristics would he/she have.
Resiliency.
Creativity.
Ability to read the game.
High Risk.
Vulnerable.
When preparing a new game (next weekend), how does your general approach look like and did you ever change your approach? And if you did, why did you change and was the outcome beneficial?
I change little things all the time, I'm constantly learning and I like to experiment with things. However one concept doesn't change (remember overall guiding values are very important to me), you must keep it simple.
As a player I was on teams where we were given 10 pages of scouting notes, had to memorise them and got tested on it. I was a bit older and more experienced and sat there crossing out all the things totally irrelevant to me helping my team succeed, but I watched everyone around me get paralysed in game situations.
What we present to the players should be simple and actionable, should follow what our basic systems are and what we teach, rather than changing what you do based on apparent tendencies.
As a coach I like to watch a couple recent full games, I have a few spreadsheets of data that I like to sift through and we have set videos that we create to show to the players.
We do very short small group video (passers, setters, middles), which is mostly player led and guided by us.
We will do a team video of around 30 minutes where we will show the hitters main tendencies and some heat maps. My staff have their own parts, one assistant prepares and presents the individual block defence portion, another is working with the middles, and I run the setter portion.
Throughout the week I may add some concepts into the practise that could help without really specifying that we are doing it to prepare for a particular game or player.
Those don't usually differ from what we normally do, simply a little refresh of something we may not touch on frequently with a large focus. For example, if we are facing a spin serve (which isn't super common) we won't go into the game without receiving some.
We often play teams which do a very specific block system against us to double block two of our players, so those players will see more set up doubles rather than just facing our normal system.
Something I try to remember: We are more aware of what we focus on in practise. If the focus needs to be on a particular thing for that game (or simply to get better in the long run), then we probably need to practise it.
Things that we don't practise as much get less mental focus from the players, and consequently will probably get worse.
Seems obvious, but I have often been frustrated when something wasn't going well, checked back on my practise plans and realised it had been of lower importance to us… and it showed.
How has a failure, or apparent failure, set you up for later success? Do you have a "favorite failure" of yours?
Small and large failures are inevitable, they are a part of the game as much as small and large successes.
The bigger the failure the bigger the lesson. This year we played the Super Cup, the first final we have lost since I have been at NUC, and we lost in spectacular fashion.
To say that there were a lot of lessons we took from that game is an understatement. We had to confront the fact that we weren't ready in terms of our style of play and values in a big game, but ultimately, if you are resilient and can self reflect, these moments can shape what happens going forward.
If you are at the point of confronting big failures then you are also at the point of realising big wins. You cannot have one without the other. Resiliency is an absolute necessity, and pushes those failures to lead to growth.
If you can make the strongest 'starting six' in the world, right now. What would your team look like? Why did you choose these players? Female or Male depending on your expertise.
I have a mix of male and females here:
Kubiak (Poland) Outside Hitter, his creativity and solutions are the best in the world.
Zhu Ting (China) Outside Hitter, her physical ability, control and all round game is unmatched.
Bozkovic (Serbia) Opposite, she is an absolute powerhouse with a huge serve.
Wolosz (Poland) Setter, her speed and accuracy is best in the world.
Ogawa (Japan) Libero, he covers so much space in reception and his setting is creative and precise.
De Kruijf (Netherlands) Middle, she is an excellent slide hitter and very strong blocker.
Simon (Cuba) Middle, he's so physically dominant and runs a lot of creative plays.
Do you have a book that you like a lot? Which lessons did you get out of it?
Chop Wood Carry Water by Joshua Medcalf: An excellent fable about mindset. An easy read and something I pass around to every player, regardless of their level or experience.
The Five Dysfunctions of a Team by Patrick Lencioni: Another book with leadership lessons. Great examples from the business world, really resonated with me in terms of running a staff and team.
What is one of the best or most worthwhile investments you've ever made?
As I am sure many others will say, the people around you are your biggest resource, there are so many great coaches out there with different training styles and philosophies and I believe you can always take something positive from these different ideas.
I try to be in as many gyms as possible asking as many questions as possible, it feels time consuming, but in the end it's the best way to help develop your own ideas.
During the first COVID lockdown I spent a lot of time on zoom calls with different coaches I hadn't met before and it was another good reminder on how valuable simple conversations with our colleagues can be.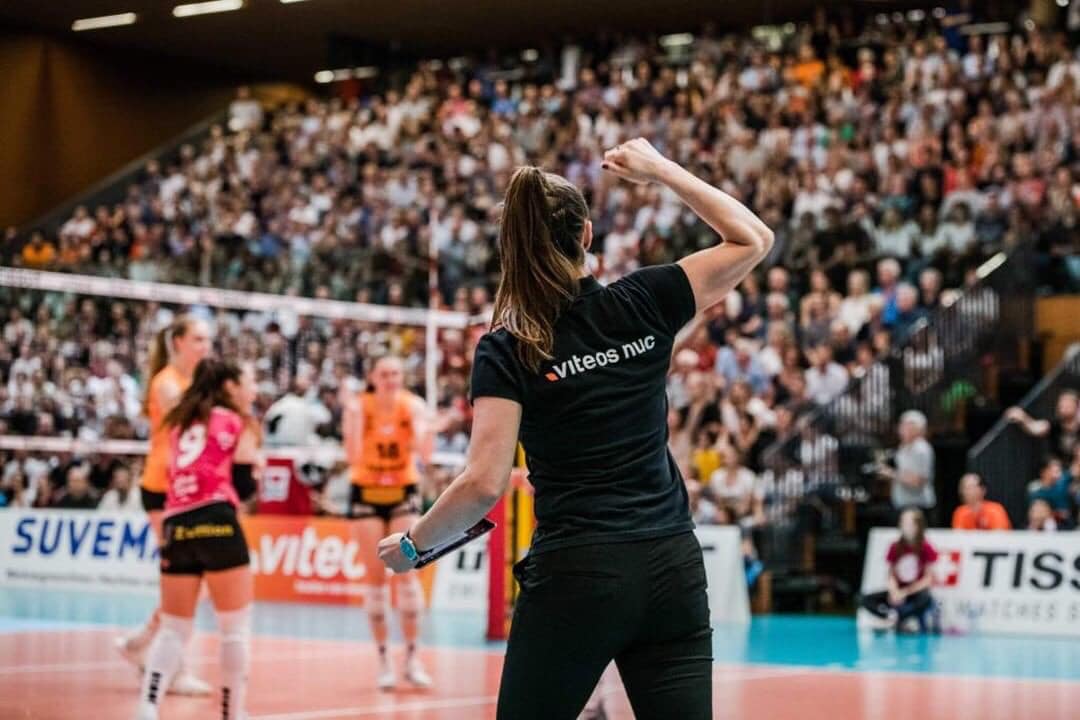 What advice would you give to a smart, driven young coach about to enter the  "professional coaching world"?
You don't know what you don't know, so stay curious.
You can't succeed without the people around you. Your players, staff, board, volunteers all play a vital role. Spend time on those people, create relationships and understand how to get the most out of those that work with you.
Don't overrate the importance of being a good strategic coach, and under appreciate the effect of your own behaviour on players.
These effects impact performance on a team and individual level.
A follow up to the last question. Maybe even more important, what advice should they ignore? What are bad recommendations you hear about coaching or training volleyball?
I find this hard to answer, because I believe we can take value from all different opinions and philosophies, we just have to make sure it fits into who we are as a coach.
However if I can say something that I encounter often enough that it still concerns me is the mentality of "more is better".
From a coaches perspective, will that one extra training before the game really help you win?
I believe there are times that you need to trust your overall coaching and preparation and know that that is enough, rather than over stressing or overloading the players.
From a players perspective, you need to make the reps count.
Reps for reps sake will not always be helpful. They need to be mindful, intentional and worthwhile. At the same time, rest and recovery is of equal importance. You can't perform at your best if you aren't fresh, more isn't always better.
If you could have a gigantic billboard anywhere with anything on it — metaphorically speaking, getting a message out to every athlete or coach on the globe — what would it say and why?
On the top of our whiteboard everyday is 'Dream Big'.
When I arrived we were a team that was constantly finishing 4th or 5th, but had the capacity to compete with the top.
If you don't aim for the top it's hard to reach your potential, so we are going to give everything to win everything.
It sounds obvious but we need to have constant belief in our teams standards and values and pursue them relentlessly. If we fail, we just get back up and do it again, it's sport and life, you have to be able to confront failure and use it constructively.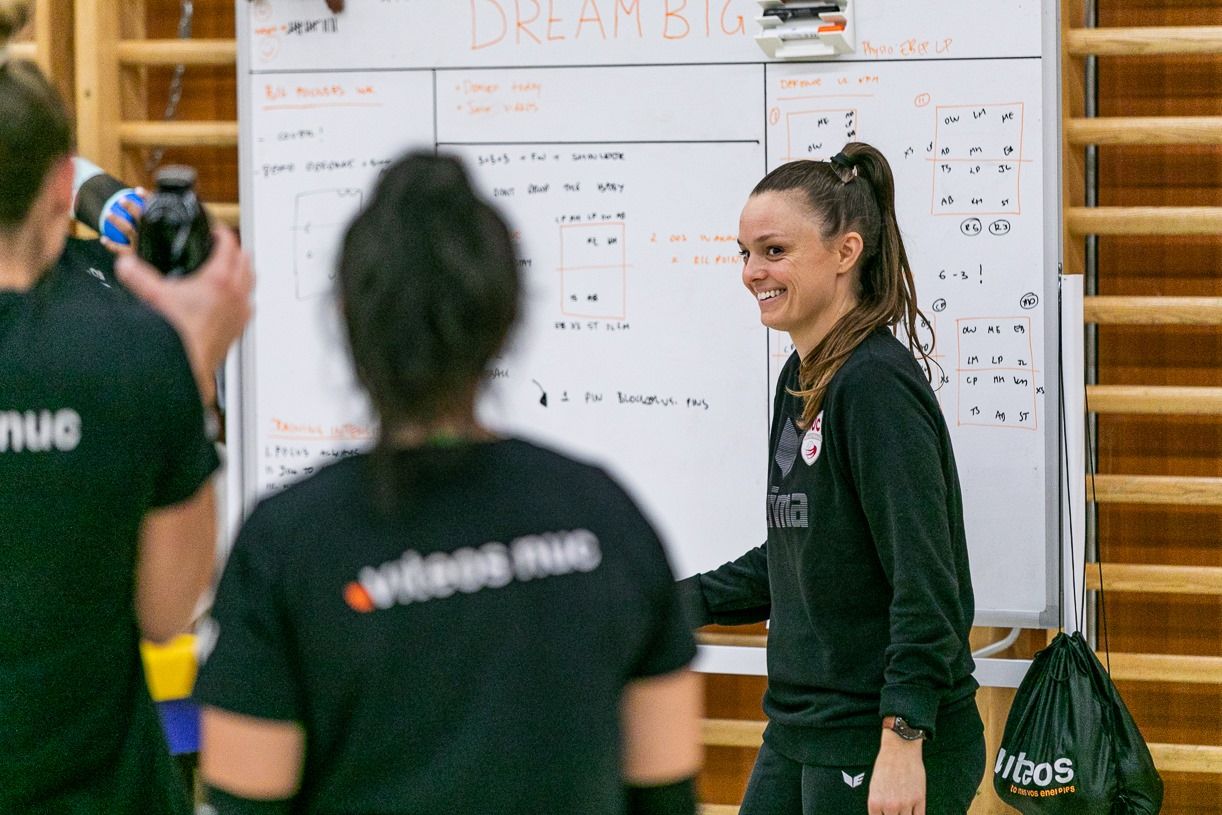 In the last five years, what new belief, behaviour, or habit has most improved your life?
My dog!
I am quite sure most coaches will say the same, but this is an all consuming job. It is hard to turn your brain off when you aren't in practise or the office.
Most coaches I know are people who immerse themselves in the game. If I wasn't forced to do something else I can sit and watch volleyball all day, take notes and come up with new ideas.
My girlfriend moved to Switzerland last year, and brought her dog with her.
Simply having to get outside everyday and make sure she gets exercise has really helped me take time away from the screen, the game and keeps my mind rested.
When you feel overwhelmed or unfocused, or have lost your focus temporarily, what do you do? (If helpful: What questions do you ask yourself?)
I come back to my values and vision. I usually need to check in with "the big picture". Most of the time this check in shows me that I am on the right track and it just pushes me to continue trusting the process.
If stress is causing me to forget our style of play, or I am acting in a way that isn't true to myself and how I want to coach then it's just a quick little reminder of what is important!
---
Thank you, Lauren.
Readers, for sure go and check out some of that VNL action, the streams are pretty sick, of very high quality. Don't miss out on having the exclusive chance to have a listen in at what goes on during time-outs and in between sets.
You can check out Team Canada with Lauren and Shannon. Check out Poland with Vital, Turkey with Giovanni and Team USA's Luka Slabe.
And you can enjoy Mark's  expert commentary during the games. 👍
Enough with the 'volleybrains.com - VNL' name dropping. More is coming in the next weeks. Enjoy.
Matias